Back to femdom
Welcome as always to more hot galleries featuring the hottest petite mistress in the whole world DomKarin. Today's scene features the babe showing off more of her sexy clothes, plus more of her playing with her stud of a guy too. As you know by now, she just adores dominating guys and teasing them and since she's so great at it, this scene features just more of that. You know that this is the best place to visit if you want to see someone as her have some fun and act kinky and we think that this scene is the perfect representation of that too. Waste no time and let's get to see Dom Karin in some wild and naughty action again!
The lusty blonde had a brand new pair of high heel leather boots to show off and these ones are all bright red. Of course, it just made her look even more stunning and the guy seems to think that way to as he got rock hard for his mistress as soon as he saw her. Watch him kneeling back with his hands tied behind his back as the babe takes her sweet time to tease him as much as she wants with her nude and hot body today. And to some degree you too. Anyway, do take your time to check her out, and check out the past scenes she has too, you'll be able to find even more of this naughty babe getting down and dirty there too!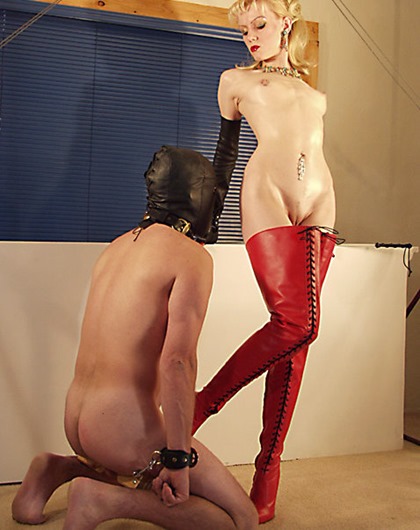 Check out the nasty blonde mistress teasing her slave!