Giving stretching pleasure
In this update DomKarin has gathered her best friend to teach his slave a lesson for having an early orgasm. He knew that he won't get away with it but he couldn't help himself, Karin is so irresistible even when she is torturing him. Watch as these hotties are forcing him to lick their pussies until his tongue goes numb and Karin is pulling his cock and squeezes his balls as punishment! Enjoy and don't forget that you can find some similar content inside the www.strapondreamer.org blog! Have fun with this new one as you can enjoy seeing a group of three lovely and horny babes taking advantage of this male slut today everyone.
The blonde babe Dom Karin usually likes to have friends over anyway so for the teasing that she would be doing on the guy today, she would also have some company. And one of the other babes you will instantly recognize as Lili, a babe that was featured in Karin's scenes in the past too. Anyway, watch the babes making the guy sit on all fours and watch as they just start to tease him all over. Karin gets to play with his cock and balls and be sure that by the end she has him blowing load after load too. Lili gets to tease the guy by rubbing her pussy all over his body and last but not least, the other babe gets her eager cunt licked by the guy for the whole scene.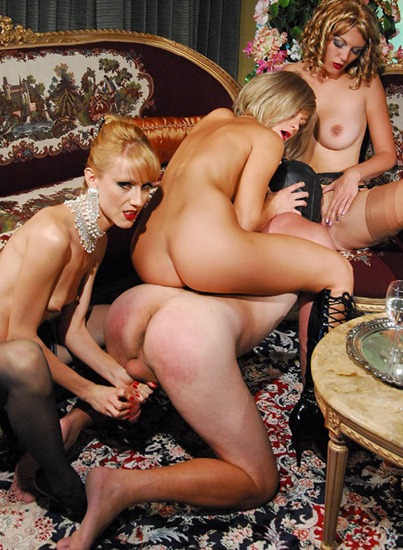 Check out Karin squeezing his slave's balls and cock!