Tease and Punishment
Karin punishes her slave because he was caught playing with his large cock without her permission.She really makes him suffer, as she ties him over and makes him have a hard one and then starts kicking it in a pure domkarin style. The captive male will never do that again, because we're sure that he learned his lesson at the hands of our beautiful and sexy blonde babe. And well you get to see his punishment as well as our lovely and horny blonde gets to slap him and his cock around as much as she fancies in her sexy little scene update today. So let's get this scene started shall we?
This babes doesn't like her men playing sexually without her permission or her presence, and if she catches you you will be in for some harsh punishments. She has this idea that it's not nice to start playing and pleasing yourself without her and she is willing to go the extra mile to make sure that you understand. Watch her tying up this naughty guy, and see her getting his cock nice and hard as she wants to punish him. Sit back and enjoy seeing her whip his nice big cock with her leather whip and see her playing with his balls as well for that extra kinky factor. Enjoy it and see you soon!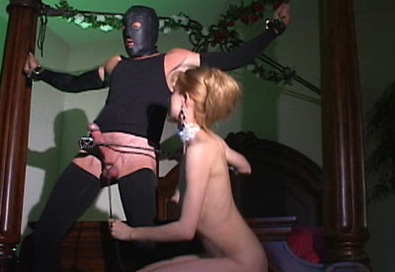 Click here and see Karin whipping slave's cock!