Milking with stiletto boots
A new week is here, and DomKarin has some more new stuff to show off to all of you without delay. Your favorite blonde knows exactly how much you enjoy seeing her do whatever she pleases on camera and this afternoon she gets around to dominate another one of her male fuck toys every way she wants to. She had her sexy high heels on for this one as she intends to use those and those alone to milk his cock of all the jizz that he has today. Just from the sound of that, you know that this scene is going to be good so as usual, let's not beat around the bush anymore and just get it started as we bet you;re eager to watch this Dom Karin scene too.
Well, apart from her stiletto high heels, the shoes are actually thigh high and made of leather and be sure that they made this lovely lady look even hotter. Apart from that she had this chest piece made out of chains and leather too and rest assured that it was very revealing too. So pretty much her whole sexy body and all those luscious curves were visible from the start. See the babe beggining her thing and see her using her boots to stroke the dude's cock for this one. She keeps at it until she makes him jizz all over her shoes and of course she also makes him clean up too after he was done!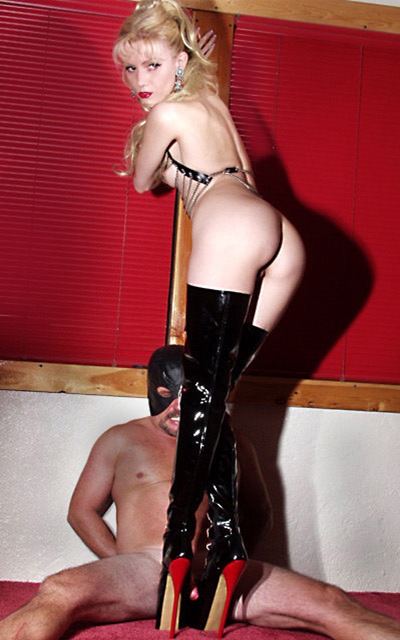 Check out the nasty mistress squeezing her slave's cock!