DomKarin – Testing the new slave
DomKarin has a new slave who sais that he is willing to do anything she wants but she is not convinced that he is going to be a good slave so she decides to test him. Watch as this sexy mistress ties his slave and tortures him to find out how much he can take. Check out this scene now and watch as he gets his cock slapped and tortured! If you liked this update and you're looking for similar videos, check out feetslave.org website. Anyway, this is one of those classy Karin scenes that will leave you wanting for more and with that, let's not waste time anymore and check things out as we know you want to check it out too!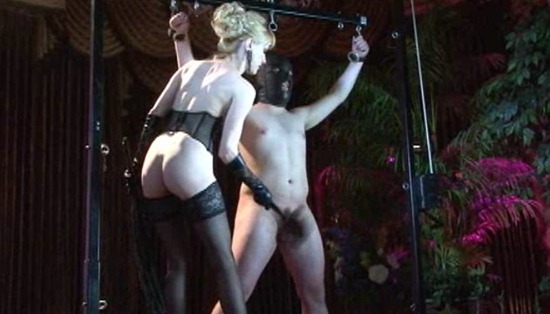 As this scene starts off, you can see that Karin had already tied up her little man slut before hand. He was very very naughty and since he is still new she also needs to test his stamina and improve it if necessary. The babe shows up straight off with just a corset garter belt and thigh highs and just like always she looks simply incredible. Watch her take her time this afternoon to tease the guy and his cock as much as she wants for the afternoon. You can even see her stroking his cock at the end since he was such a good sport. She does this until she makes the guy blow his load as she wants to show him that she cares about her male sluts all the time!
 Watch as sexy Karin is torturing her new slave!