DomKarin – Tease and denial
Meet DomKarin 's new slave, who is going to find out soon that she is a sexy lady you don't want to mess with. She loves teasing her victims, offering them pleasure and then denying it just when they are about to blow their load. And if they complain, she is punishing them. This foot slave guy asked for more, which was a mistake because now she is squeezing his nipples hard and tortures him until he starts begging for mercy. Well she is a master at teasing studs and seeing them beg for release just turns her on so very much too. Let's take our time to see the babe in action once more as we know that you are eager too.
For this scene, the lovely and sexy blonde gets to tie the guy up to a wooden frame and have her way with him as much as she wants. Dom Karin is already wearing her simply sizzling hot and sexy lingerie set like usual as she knows that it always turns these guys on on the spot. Well sit back and watch her as she gets to play with his body, caressing and teasing him all over. Like we mentioned, the guy was just begging for release at one point and her being the kind mistress that she is, decided to release his load. Though she shows off one of her other cock pleasing skills, by stroking his cock with her sexy leg until he blows his load!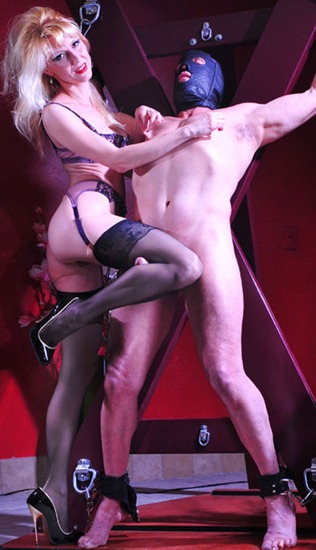 Watch naughty Karin torturing her helpless slave!