The Mean Mistress
The one and only DomKarin brings you her superb scenes to see and enjoy as she gets to have some naughty and kinky fun. Starting today you get to see some very sexy and hot scenes with the hot blonde as she does a great job of dominating her men and having as much fun as she wants with them in every scene. Today she gets out one of her male sluts and has her fun with him as she takes out her whip and starts to punish him. He's due for stamina training and miss Karin will take her time today to teach him how to not blow his load until she commands him to. So let's get the scene going and see the action go down.
When it starts off, you get to see the superb blonde wearing nothing but her thigh high boots and long gloves. She wants you to get a nice and long look at her simply stunning nude body too before anything else and as you can observe, she looks incredible too. She has a perfect pair of perky breasts and a slender frame and rest assured that it's not going to be easy for this dude to not get turned on by the sight of this sexy woman. Either way, the guy makes his entry and the babe is all ready for him. Every time he gets hard she gets to whip that naughty cock and balls until he clams down and it's just a treat to see the blonde take control.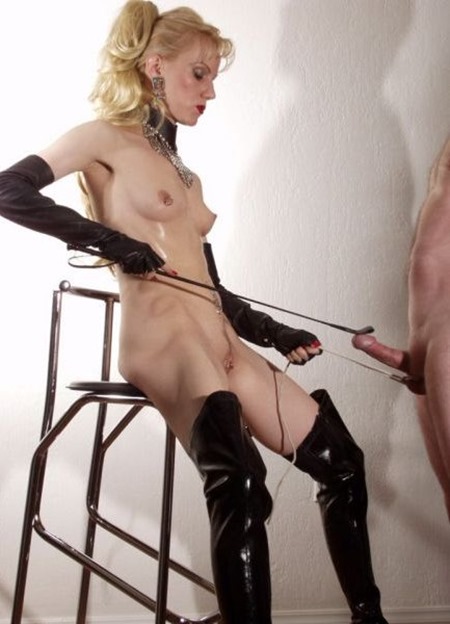 Take a look at hot DomKarin tormenting her slave!